Sun, 29 July 2018
Sex Gets Real 222: Sarah Thompson on body trust, pleasure, and non-binary identity
Do you struggle to say no without over-explaining? Do you feel hurt when people you love set boundaries that disappoint you? Are you looking for ways to stop apologizing and to start taking up more space? Well, Take Up Space, my online boundaries workshop, is now available on demand. Grab your spot today.
Body trust, queer identity, pleasure in a fat body, and losing attraction for a partner with Sarah Thompson
In a few days, I head to Portland for the ASDAH (Association for Size Diversity and Health) conference which will happen over my birthday weekend. The next few weeks will be all about body trust, rejecting diet culture, research around health at every size, celebration, and fat acceptance.
I could not be more tickled, especially because this week Sarah Thompson, the Resilient Fat Goddess, is joining us to talk about how everything changed for Sarah - access to pleasure, setting boundaries, shifting into new queer and non-binary identities - after doing body trust work with BeNourished.
Sarah and I initially connected because of a new blog post Sarah put out to partners who no longer find their partner's attractive, especially after that partner has rejected diet culture and moved towards body acceptance. You can read it here.
So, we talk all about bodies, why we never owe our partners sex or attractiveness, trust, fat identity, queer identity, and all the feelings that brings up.
Plus, before my chat with Sarah, you get to hear Patreon supporters' responses to two listener questions. That's right - advice from YOU, the podcast supporters. If you support the show at $5 and above, you get to weigh in and share your advice in response to listener questions that I post.
Patreon supporters - If you support the show at the $3 level and above, Sarah shares how a religious upbringing, growing up in a small town, dealing with fat bias, and living with an eating disorder kept Sarah from understanding their queer and non-binary identity until very recently.
Listen and support the show at http://patreon.com/sexgetsreal
Follow Sex Gets Real on Twitter and Facebook. It's true. Oh! And Dawn is on Instagram.
This episode is generously brought to you by: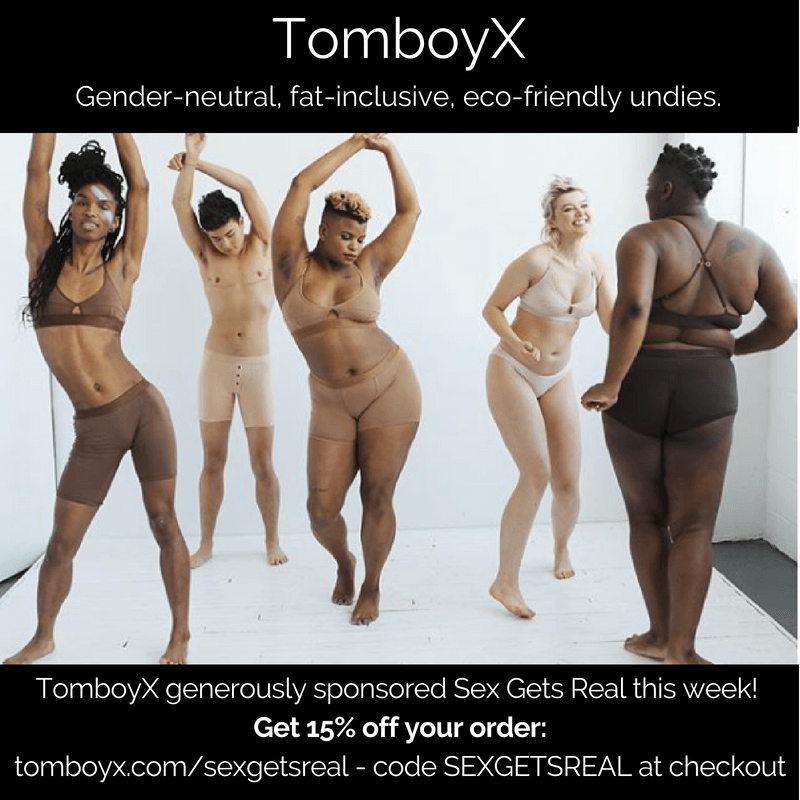 About Sarah Thompson:
Sarah Thompson is an eating disorder recovery coach, consultant, and writer focused on body liberation, fat liberation, and body positivity. Sarah is a white, fat, queer, non-binary femme. Their writing combines ideas from a wide range of philosophies - Body Trust®, Health at Every Size®, Intuitive Eating, Fat Liberation, eating disorder recovery, harm reduction, and more. Being committed to helping others finding more freedom and compassion in their lives is what led them to become a Certified Body Trust Provider. They were also the co-creator of Do No Harm Podcast. Sarah is constantly wondering how they can contribute to healing, justice, and liberation in our world where there is constant suffering. They love working with people who are asking these same questions!
Stay in touch with Sarah at resilientfatgoddess.com and on Facebook, Instagram, and Twitter @rslntfatgoddess.
Listen and subscribe to Sex Gets Real
Use the player at the top of this page.
Now available on Spotify. Search for "sex gets real".
Find the Sex Gets Real channel on IHeartRadio.
Hearing from you is the best
Contact form: Click here (and it's anonymous)
---